Muffins are one of the best items for kids lunch box, specially mini ones. Today I am sharing a very easy and simple mini blueberry muffins with slight hint of lemon that you can whip up in under 10 minutes.
Recipe at a Glance – Mini Blueberry Muffins
This is a pretty basic recipe, where wet and dry ingredients are whisked separately and then together to form a somewhat lumpy batter. Here are the ingredients and some information related to them.
Oil – I prefer extra virgin olive oil but you could use any neutral flavor vegetable oil like canola.
Egg – Medium size, room temperature egg
Flour – All purpose flour, not cake or bread flour
Leavening – only baking powder is used which I prefer because baking soda tends to give this after taste in muffins
Greek Yogurt – You can substitute with full fat yogurt slightly strained
Buttermilk – Laban as we call it here in Middle East is a great ingredient to get moist baked products, you can substitute with full fat milk.
Sugar – Regular granulated sugar is used, you can increase the sugar by 1 tablespoon if you prefer your muffins to be on sweeter side.
Lemon Zest – freshly zested, add a burst of flavor, you can replace wi
What is the secret to moist muffins?
The moistness of any muffin depends on various factors like ingredients, their temperature, how they are baked and mixing method.
This particular recipe is made with oil and yields a very light and delicate crumb. I have used olive oil which gives a slight flavor offset. Another contributor of moistness to these muffins are buttermilk and Greek yogurt.
When mixing muffin batter, be careful not to overmix it which can lead to excessive gluten formation making the muffins a little tough and chewy.
How do you get muffins to rise high?
Two tips to get your muffins rise high:
Fill the cavity of cupcake pan up to 3/4th using a scoop for even looking muffins.
Bake at 375 F, you can also try baking them at 400 F for first 5 minutes and then lowering it to 350 F, however I prefer the first method because I am afraid I might forget to lower the temperature.
How do you stop muffins from cracking on top?
A cracked rustic muffin with slight sugar crunch is in my opinion a characteristic look of the muffins. Otherwise it resembles cupcake which is different from muffins and look wise it should have smooth even top.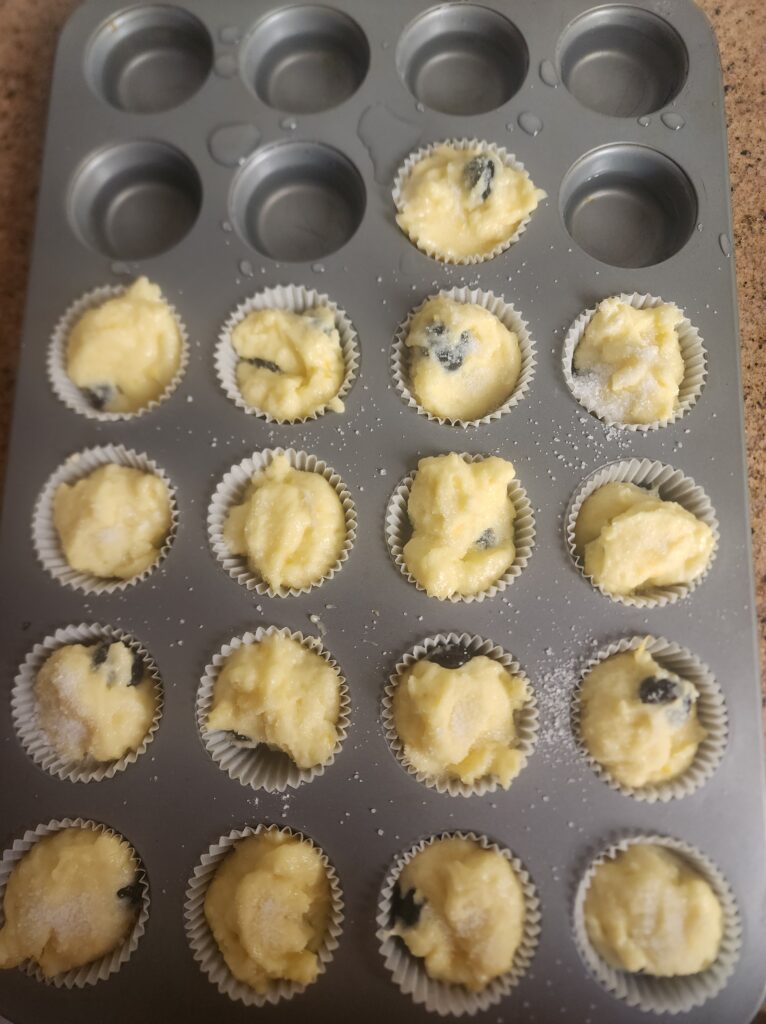 Why should you coat your blueberries with a little flour?
Coating the blueberries in flour prevents sinking the fruit to the bottom.
When should you add blueberries to muffin mixture?
Last. When your batter is ready, fold in your berries very gently with a spatula. You don't want to mush or break them because in the oven they will and create that beautiful drip and color.
Can I use real blueberries of frozen ones?
I have used both, and they work just as well. No need to thaw incase you are using frozen.
How to store mini blueberry muffins?
Muffins can be kept in an airtight box for up to 3 days, or can be frozen for up to 2 weeks.
I personally like to freeze the muffins in an airtight box and placed again in a plastic bag. For lunch boxes, I just pop one directly from the freezer and by the time lunch happens, they are thawed to perfect temperature.
Yield: 15-17 mini muffins
Mini Blueberry Muffins
Muffins are one of the best items for kids lunch boxes, specially mini ones. Today I am sharing a very easy and simple mini blueberry muffins with slight hint of lemon that you can whip up in under 10 minutes.
Ingredients
1/4 cup olive oil*
1 egg
1/2 cup sugar **
3 tablespoon Greek yogurt ***
3 tablespoon Buttermilk ****
1 cup flour + 1 tablespoon Flour
1/2 tablespoon baking powder
1 teaspoon Lemon Zest
1 cup blueberries (fresh or frozen)
Instructions
Place olive oil, egg, sugar, lemon zest, buttermilk, yogurt in a bowl and whisk
Toss the blueberries in 1 tablespoon flour.
Add flour, baking powder to the batter and whisk until just combined.
Fold in coated blueberries.
Scoop the batter into a mini muffin/cupcake tray lined with liners.
Bake in a pre-heated oven at 375 F for 12- 15 minutes, rotating at 12 minutes mark if needed.
Remove from the pan after 5 minutes and cool on wire rack.
Store in an airtight container at room temperature for up to 3 days up to in freezer (covered twice) for up 10 days.
Notes
* Substitute any neutral flavored oil
** Reduce sugar by 1 tablespoon if you prefer less sweeter muffins
*** You can use regular full fat yogurt
**** You can use full fat milk as well, or homemade buttermilk
You might also want to try these delicious muffin recipes
Chocolate Muffins – personal and kid's favorite
Healthy Chocolate Banana Muffins – Healthy jumbo sized
Chocolate Chip Muffins – Easy recipe with yogurt
Summary
Recipe Name
Author Name
Published On
Preparation Time
Cook Time
Total Time